Marauders Nicknames | Looking for nicknames for marauders? Don't worry, In this post, I'm sharing my collection of legendary marauder nicknames.
Marauders are a legendary group of four friends from Hogwarts School of Witchcraft and Wizardry, who play an important role in the Harry Potter series.
This group, consisting of James Potter, Sirius Black, Remus Lupin, and Peter Pettigrew, is known for their unique nicknames and strong friendship.
The Marauders' nicknames are inspired by the magical world of Harry Potter, specifically, the Marauder's Map, which James Potter and his friends created to secretly keep track of people within Hogwarts.
These nicknames have become a popular way for fans to express their love for the series and create a unique identity within the Harry Potter community.
In this post, I'm sharing my collection of Marauders nicknames, and even share some tips on how to create your unique nickname.
The Original Marauders And Their Animagus Forms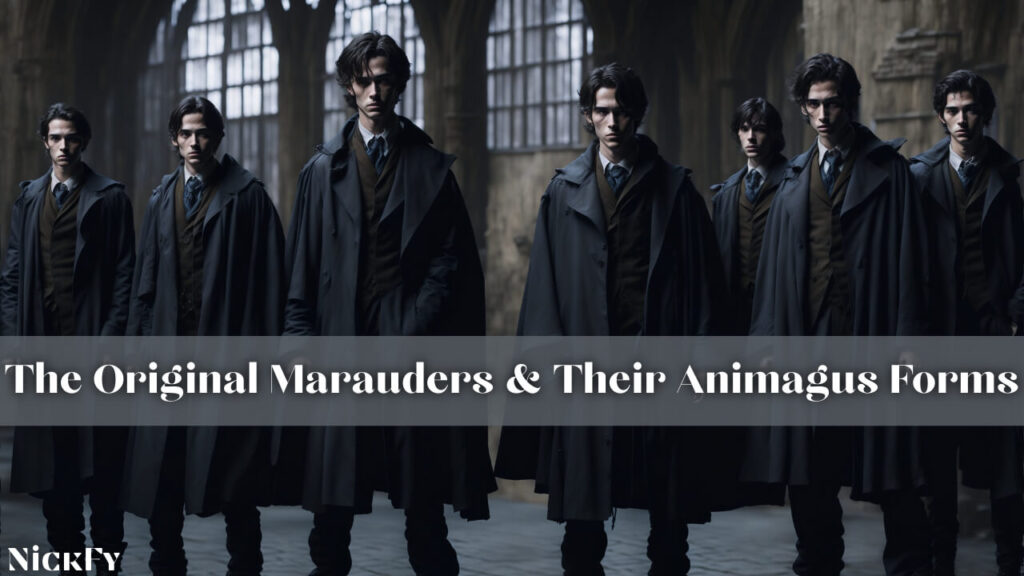 Before we get into my collection of marauder nicknames, let's take a moment to appreciate the original Marauders from the Harry Potter series.
These four friends attended Hogwarts School of Witchcraft and Wizardry and were known for their pranks, adventures, and camaraderie.
Their nicknames are based on their Animagus forms or other magical abilities, so let me introduce you to the four Marauders and their Animagus forms.
James Potter (Prongs) – Harry Potter's father, James was a talented wizard and a skilled Quidditch player. His Animagus form was a stag, resulting in the nickname "Prongs" due to the stag's striking antlers.
Sirius Black (Padfoot) – Harry's godfather and James' closest friend, Sirius was a loyal and brave member of the Order of the Phoenix. His Animagus form was a large black dog, which led to his nickname "Padfoot."
Remus Lupin (Moony) – A kind-hearted and intelligent wizard, Remus was a werewolf who struggled with his condition. Although not an Animagus, his nickname "Moony" was derived from his lycanthropy and the moon's influence on his transformations.
Peter Pettigrew (Wormtail) – Initially a close friend of the other Marauders, Peter later betrayed them and joined forces with Lord Voldemort. His Animagus form was a rat, which inspired his nickname "Wormtail."
Now that We've paid homage to the original Marauders, let's get inspired by their creativity and explore my collection of cool and catchy Marauders nicknames.
The Best Marauders Nicknames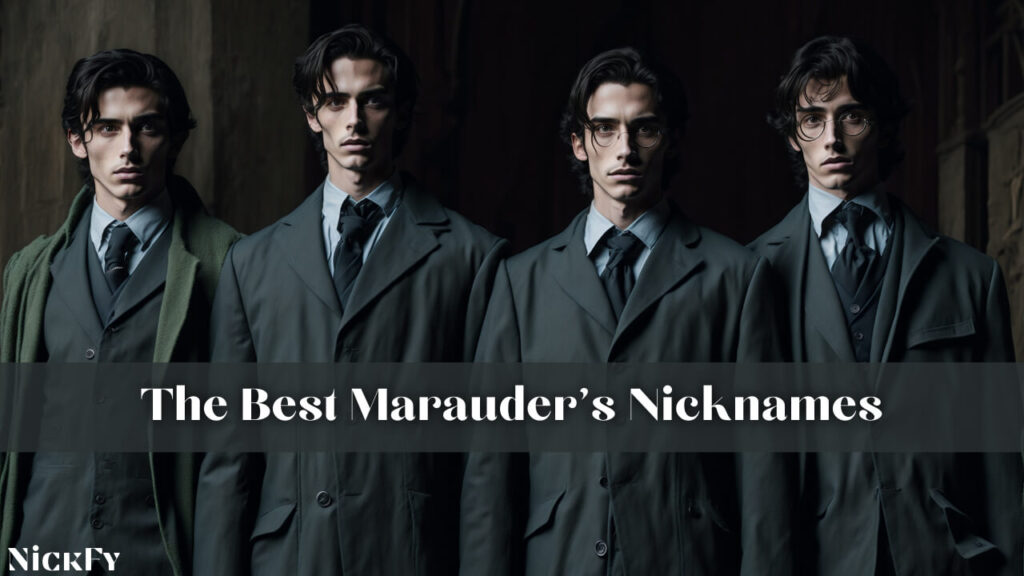 Are you searching for the best Marauders nicknames? Relax, your search is over. In this section, I've posted my collection of top Marauders nicknames that you'll love.
The Marauders from the Harry Potter series are iconic characters, and their nicknames are equally memorable. Why not use them as inspiration for your nicknames?
Marauder's nicknames can be given to friends, used as online usernames, or even as pet names. It's your choice, but make sure it captures the essence of the original Marauders while adding a unique twist.
Below, I've shared my compiled list of the best Marauders nicknames for you to use and enjoy.
Prongs Master
Moony Magic
Padfoot Prowler
Wormtail Whiskers
Marauders Map Maker
Full Moon Marauder
Stag Star
Canine Cunning
Rat Rascal
Lunar Lupin
Black Shadow
Pettigrew Pirate
Potter Patronus
Sirius Spellcaster
Remus Rider
Peter Potioneer
Animagus Adventurers
Hogwarts Hijinks
Secret Sorcerers
Mystical Marauders
Moonlit Mischief
Prankster Potter
Black Broomstick
Lupin Lumos
Pettigrew Petrificus
Marauders Mischief
Stag Squad
Dogged Duo
Rat Raiders
Werewolf Wizards
Magical Mavericks
Enchanting Explorers
Spellbinding Squad
Prongs Pals
Moony Mates
Padfoot Pack
Wormtail Wizards
Sirius Stag
Remus Rat
Peter Padfoot
James Jinx
Black Blast
Lupin Legend
Pettigrew Prank
Marauders Mantle
Hogwarts Heralds
Wizard Whimsy
Sorcerers Secrets
Moonlight Marauders
Prankster Pride
Stag Swagger
Dogged Determination
Rat Rebels
Lupin Loyalty
Sirius Sorcery
Potter Power
Pettigrew Pride
Animagus Army
Hogwarts Hooligans
Wizarding Warriors
Secret Spellcasters
Mystical Mischief
Moonlit Marauders
Prankster Patrol
Stag Sorcerers
Dogged Defenders
Rat Rangers
Werewolf Wanderers
Magical Mischief Makers
Enchanting Escapades
Spellbinding Sorcerers
Prongs Protectors
Moony Mischief Makers
Padfoot Patrol
Wormtail Wanderers
Sirius Squad
Remus Rangers
Peter Pals
James Jesters
Funny Marauders Nicknames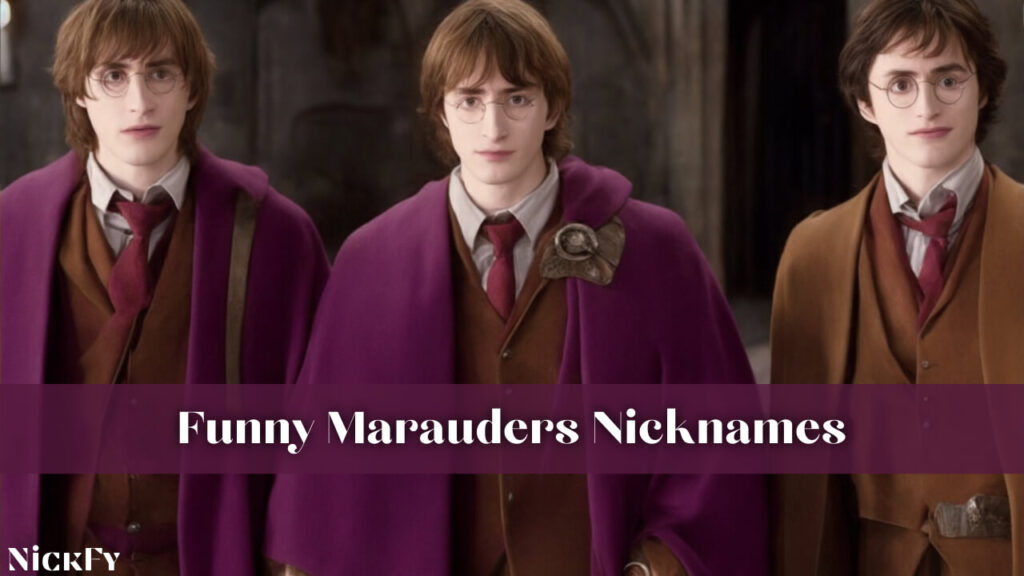 Do you want funny Marauders nicknames? You've come to the right place. Here, I've shared my list of the funniest Marauders nicknames that will make you laugh.
Injecting humor into Marauder's nicknames can make them even more memorable and entertaining. After all, laughter is a powerful tool, even in the magical world of Harry Potter.
As I dive into the realm of humor, it's time to explore some of the most amusing Marauders nicknames that can bring a smile to your face or a chuckle to your heart.
Here are some hilarious Marauders nicknames that can brighten up anyone's day.
Prongs Pong
Moony Toons
Padfoot Pudding
Wormtail Waffles
Stag Snicker
Dog Doodles
Rat Riddles
Lunar Laughs
Potter Puns
Black Banter
Lupin Limericks
Pettigrew Punchlines
Marauding Mirth
Hogwarts Humor
Wizarding Wit
Animagus Antics
Prankster Puns
Stag Silliness
Doggy Drollery
Rat Ridicule
Moonlight Mirth
Prongs Parody
Moony Mischief
Padfoot Prattle
Wormtail Whimsy
Sirius Smirks
Remus Ribbing
Peter Puns
James Jocularity
Black Belly Laughs
Lupin Larks
Pettigrew Peals
Marauder Merriment
Hogwarts Hilarity
Wizarding Whoops
Secret Sniggers
Mystical Mirth
Moonlit Mockery
Prankster Punchlines
Stag Standup
Dogged Droll
Rat Roasts
Lupin Laughs
Sirius Snorts
Potter Punchlines
Pettigrew Parodies
Animagus Amusement
Hogwarts Ha Has
Wizarding Wisecracks
Secret Snickers
Mystical Merrymakers
Moonlit Mischief Makers
Prankster Pratfalls
Stag Spoofs
Dogged Ditties
Rat Riffraff
Werewolf Witticisms
Magical Mirth Makers
Enchanting Eccentrics
Spellbinding Satire
Cool Marauders Nicknames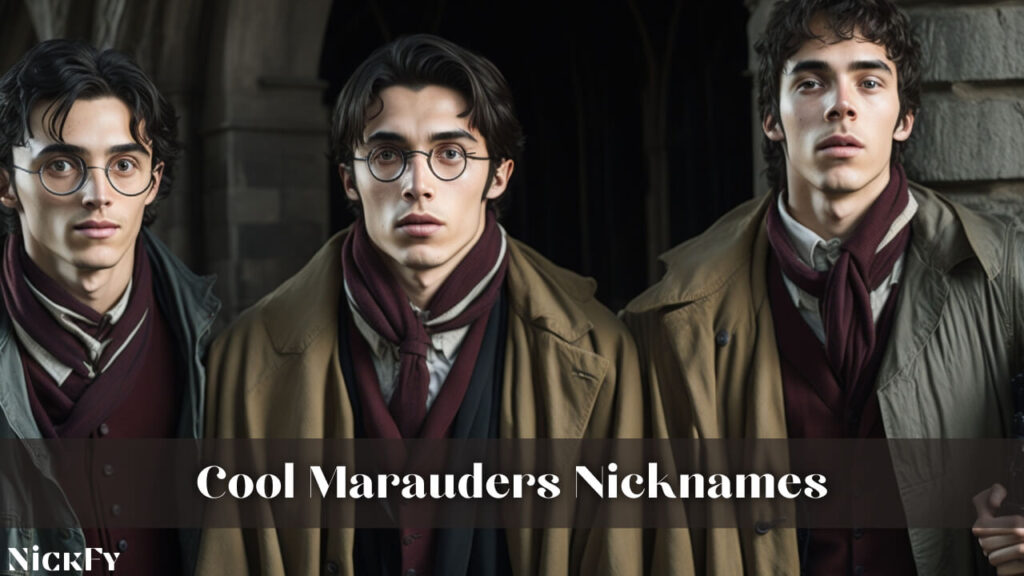 Looking for cool Marauders nicknames? Look no further. In this section, I've posted my collection of the coolest Marauders nicknames that will leave you feeling confident and stylish.
Drawing inspiration from the original Marauders, these nicknames add an element of intrigue and mystique, perfect for gamers, online personas, or even as a secret code name among friends. Embrace your inner cool with these suave Marauders nicknames.
Below, I've shared my compiled list of cool Marauders nicknames for you to use and enjoy.
Prongs Phantom
Moony Mystique
Padfoot Panther
Wormtail Whisper
Stag Stealth
Dogged Daredevil
Rat Recon
Lunar Lurker
Potter Phenom
Black Blaze
Lupin Labyrinth
Pettigrew Prowess
Marauders Matrix
Hogwarts Heist
Wizarding Wraith
Animagus Avalanche
Prankster Pulse
Stag Specter
Dogged Dynamo
Rat Rogue
Moonlight Maverick
Prongs Prodigy
Moony Marauder
Padfoot Phantom
Wormtail Warrior
Sirius Sleuth
Remus Rogue
Peter Paragon
James Juggernaut
Black Bounty
Lupin Luminary
Pettigrew Pinnacle
Marauder Mastery
Hogwarts Havoc
Wizarding Whirlwind
Secret Savants
Mystical Maestros
Moonlit Menace
Prankster Pinnacle
Stag Sorcerer
Dogged Dervish
Rat Ringleader
Lupin Luminary
Sirius Spectacle
Potter Prodigy
Pettigrew Paragon
Animagus Aces
Hogwarts Headliners
Wizarding Wonders
Secret Sorcerers
Mystical Magicians
Moonlit Masters
Prankster Prodigies
Stag Savants
Dogged Dazzlers
Rat Ringleaders
Werewolf Whiz
Magical Mavericks
Enchanting Elites
Spellbinding Spectacles
Prongs Prestige
Moony Marvel
Padfoot Phenomenon
Wormtail Wunderkind
Sirius Stardom
Remus Revolution
Peter Prodigy
James Jubilee
Black Barrage
Lupin Legacy
Catchy Marauders Nicknames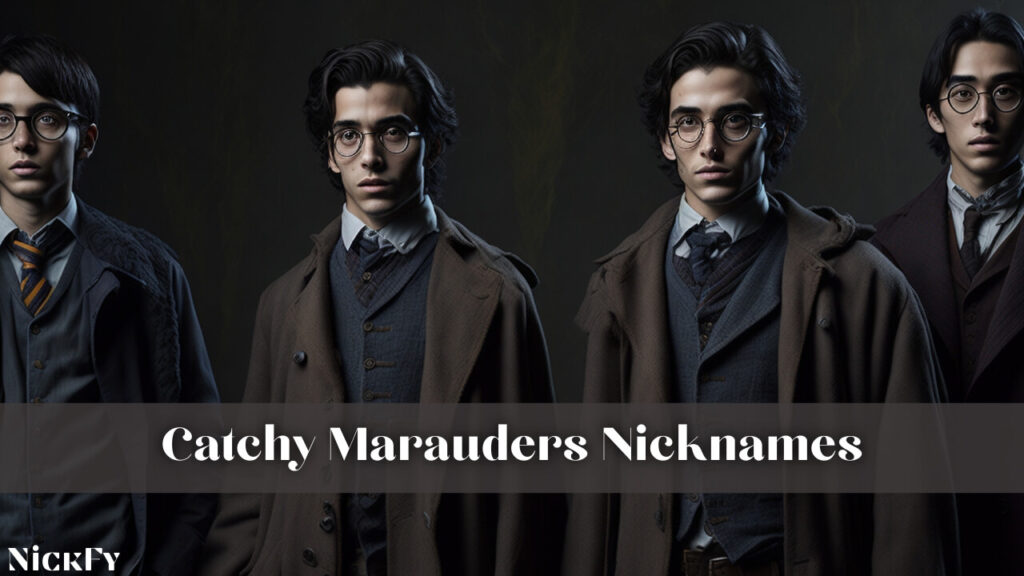 Do you want catchy Marauders nicknames? You've come to the right place. Here, I've shared my list of the catchiest Marauders nicknames that will stick in your mind like a charm.
A catchy nickname stands out and grabs attention, making it perfect for usernames, pet names, or even as a fun way to refer to your friends.
With these catchy Marauders nicknames, you'll be the talk of the magical world.
Here are some unforgettable Marauders nicknames that can brighten up anyone's day.
Prongs Party
Moony Mania
Padfoot Pizzazz
Wormtail Waltz
Stag Sensation
Doggy Dazzle
Rat Razzmatazz
Lunar Lingo
Potter Pop
Black Bop
Lupin Lilt
Pettigrew Pep
Marauders Melody
Hogwarts Harmony
Wizarding Whistle
Animagus Anthem
Prankster Pulse
Stag Symphony
Dogged Dance
Rat Rhythm
Moonlight Mashup
Prongs Promenade
Moony Mambo
Padfoot Polka
Wormtail Wiggle
Sirius Swing
Remus Rumba
Peter Pavane
James Jive
Black Boogie
Lupin Lambada
Pettigrew Party
Marauder Mash
Hogwarts Hop
Wizarding Waltz
Secret Samba
Mystical Minuet
Moonlit Merengue
Prankster Pirouette
Stag Salsa
Dogged Disco
Rat Rhumba
Lupin Lindy
Sirius Sashay
Potter Polonaise
Pettigrew Prom
Animagus Allemande
Hogwarts Hustle
Wizarding Wobble
Secret Shimmy
Mystical Mazurka
Moonlit Milonga
Prankster Peabody
Stag Sarabande
Dogged Dip
Rat Ragtime
Werewolf Watusi
Magical Mambo
Enchanting Electro
Spellbinding Swing
Prongs Presto
Moony Moderato
Padfoot Prestissimo
Wormtail Waltz
Sirius Syncopation
Remus Rondo
Peter Pizzicato
James Jazz
Creative Marauders Nicknames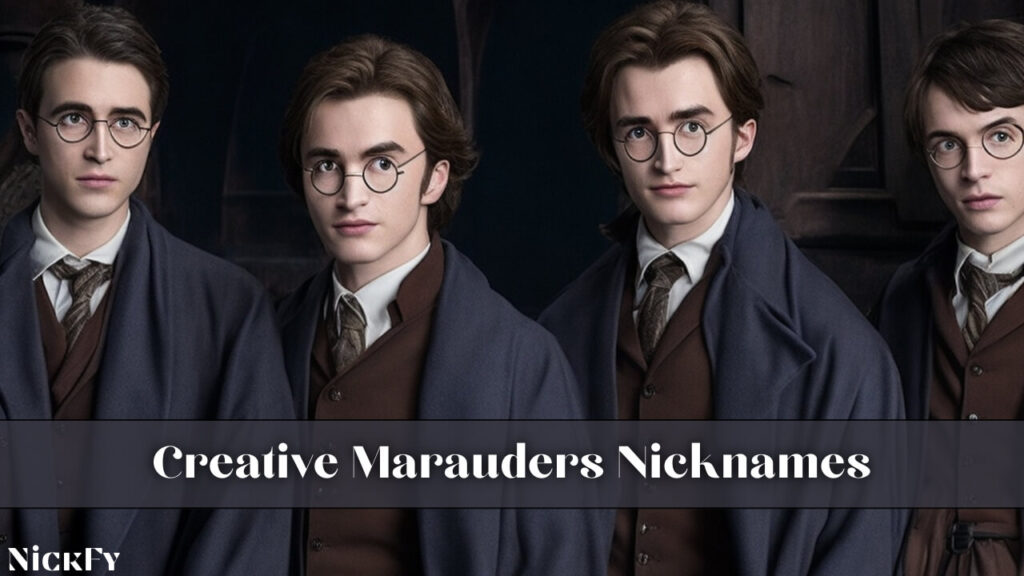 Are you craving some imaginative Marauders nicknames? In this section, I've compiled a list of the most creative Marauders nicknames that will spark your imagination.
Combining elements of the Marauders' personalities and abilities with a touch of whimsy and originality, these nicknames are best for artists, writers, or anyone with a flair for the imaginative.
Let these creative Marauders nicknames inspire your magical side.
Below, I've shared my compiled list of creative Marauders nicknames for you to use and enjoy.
Prongs Paradox
Moony Mosaic
Padfoot Palette
Wormtail Whirl
Stag Silhouette
Doggy Doodle
Rat Renaissance
Lunar Landscape
Potter Portrait
Black Brushstroke
Lupin Lithograph
Pettigrew Pastel
Marauders Mural
Hogwarts Hues
Wizarding Watercolor
Animagus Abstract
Prankster Print
Stag Sculpture
Dogged Design
Rat Relief
Moonlight Masterpiece
Prongs Pointillism
Moony Montage
Padfoot Pop Art
Wormtail Woodcut
Sirius Sketch
Remus Rendering
Peter Pixel
James Juxtaposition
Black Bas Relief
Lupin Line Art
Pettigrew Polyptych
Marauder Motif
Hogwarts Harlequin
Wizarding Weave
Secret Stencil
Mystical Mandala
Moonlit Motley
Prankster Pattern
Stag Stipple
Dogged Dichotomy
Rat Ripple
Lupin Loom
Sirius Symmetry
Potter Paper Cut
Pettigrew Papercraft
Animagus Artistry
Hogwarts Handiwork
Wizarding Woven
Secret Sculpt
Mystical Muse
Moonlit Mastery
Prankster Palette
Stag Stencil
Dogged Dada
Rat Rococo
Werewolf Whimsy
Magical Minimalism
Enchanting Etching
Spellbinding Sgraffito
Prongs Pattern
Moony Majolica
Padfoot Pastiches
Wormtail Washi
Sirius Stained Glass
Remus Raku
Peter Pottery
James Jubilation
Black Batik
Lupin Lacquer
Pettigrew Pietra Dura
Marauder Millefiori
Hogwarts Houndstooth
Wizarding Wax
Secret Silk
Mystical Marquetry
Moonlit Mola
Marauders Nicknames For Animals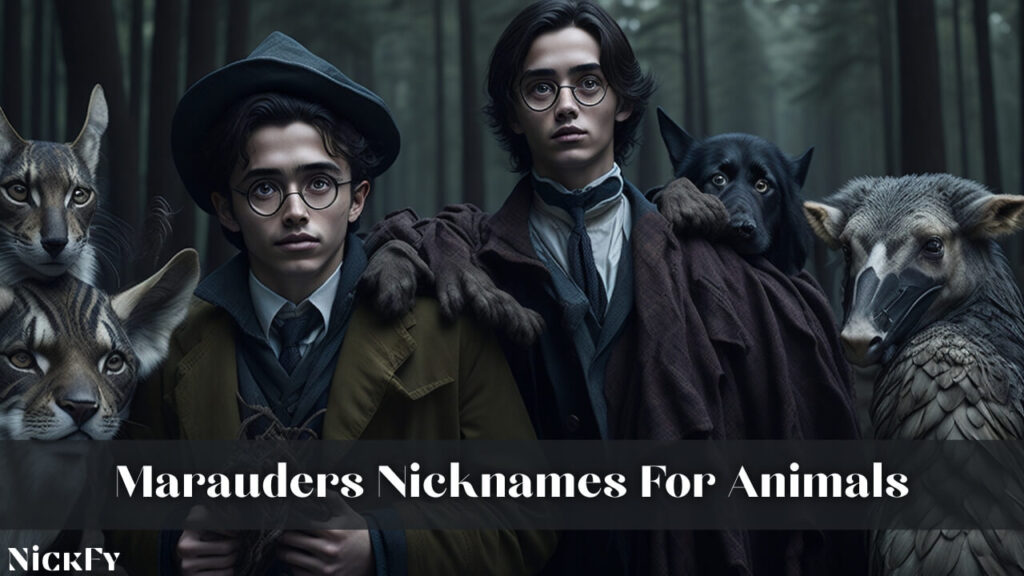 In search of Marauders nicknames for animals? Search no more. Here, I've shared my list of cute Marauders nicknames for animals that will add a touch of magic to your furry friends' lives.
Your pets can join in on the Marauder's fun with these animal-inspired nicknames.
Whether you have a loyal dog like Sirius Black's Animagus form or a cunning cat like James Potter's stag, these Marauders animal nicknames are best for sharing the fascinating world of Harry Potter with your loved pets. 
Here are some magical Marauders nicknames for animals that will make your pets feel like they're part of the wizarding world.
Prongs Paws
Moony Muzzle
Padfoot Pup
Wormtail Whiskers
Stag Strides
Doggy Dasher
Rat Rover
Lunar Leaper
Potter Paws
Black Barker
Lupin Loper
Pettigrew Pouncer
Marauders Mouser
Hogwarts Hopper
Wizarding Wagger
Animagus Antler
Prankster Paws
Stag Stalker
Dogged Darter
Rat Rambler
Moonlight Mouser
Prongs Pouncer
Moony Manx
Padfoot Poodle
Wormtail Wagger
Sirius Spaniel
Remus Retriever
Peter Pointer
James Jackal
Black Beagle
Lupin Labrador
Pettigrew Pug
Marauder Mastiff
Hogwarts Hound
Wizarding Whippet
Secret Setter
Mystical Malamute
Moonlit Mutt
Prankster Pinscher
Stag Shepherd
Dogged Dachshund
Rat Russell
Lupin Lhasa Apso
Sirius Schnauzer
Potter Pekingese
Pettigrew Papillon
Animagus Akita
Hogwarts Husky
Wizarding Wolfhound
Secret Saluki
Mystical Mudi
Moonlit Mastiff
Prankster Pomeranian
Stag Shih Tzu
Dogged Dalmatian
Rat Ridgeback
Werewolf Weimaraner
Magical Maremma
Enchanting Eskimo
Spellbinding Samoyed
Prongs Puli
Moony Mudi
Padfoot Pumi
Wormtail Wirehair
Sirius Setter
Remus Rottweiler
Origins Of The Marauder's Nicknames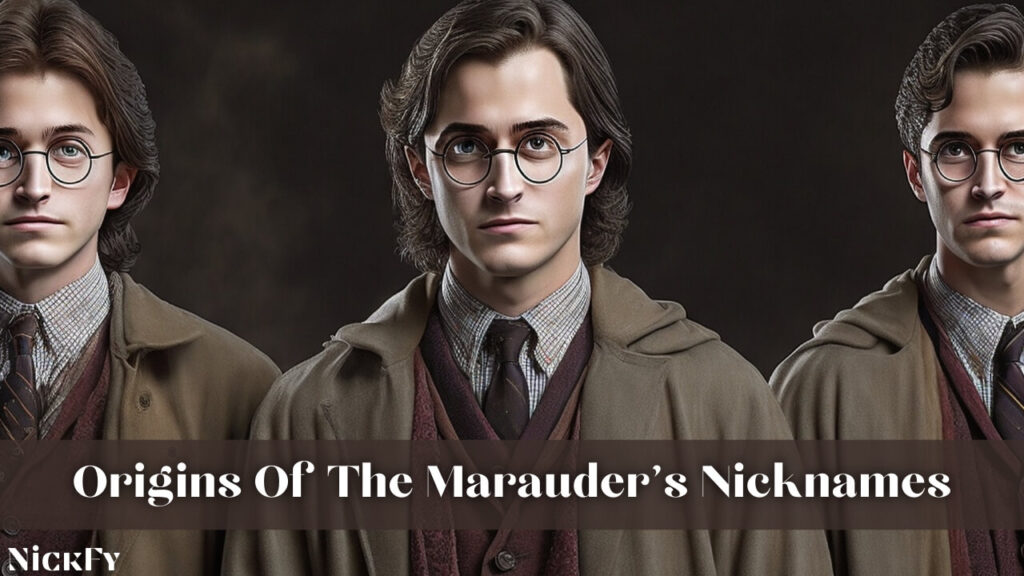 The Marauders' nicknames have a fascinating link to their Animagus forms (or, in Remus' case, his lycanthropy).
These imaginative nicknames likely sprouted during their Hogwarts days as a secret code for referring to one another, especially while in their Animagus forms or during full moon escapades with Remus.
Marauder's Map And Its Connection To Their Nicknames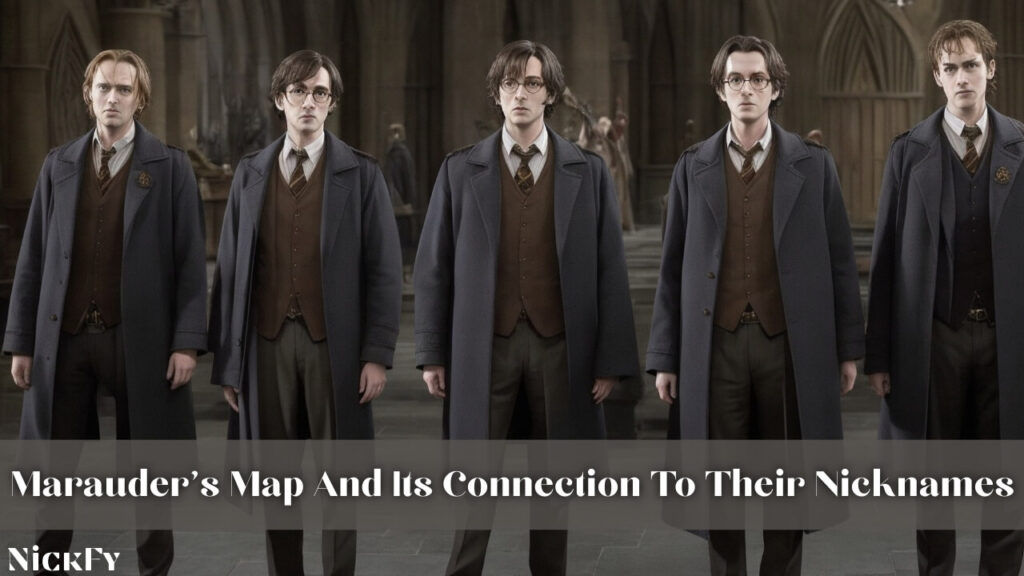 Among the most iconic inventions of the Marauders is the Marauders' Map, a magical map of Hogwarts School of Witchcraft and Wizardry that discloses the location of every person within the castle.
Marauders created the map to aid their mischief and rule-defying exploits.
Their nicknames are featured on the map as the creators, with the phrase "Messrs. Moony, Wormtail, Padfoot, and Prongs, Purveyors of Aids to Magical Mischief-Makers, are proud to present the Marauders' Map."
This further solidifies the importance of their nicknames in their friendship and adventures.
Impact Of The Marauder's Nicknames In The Harry Potter Series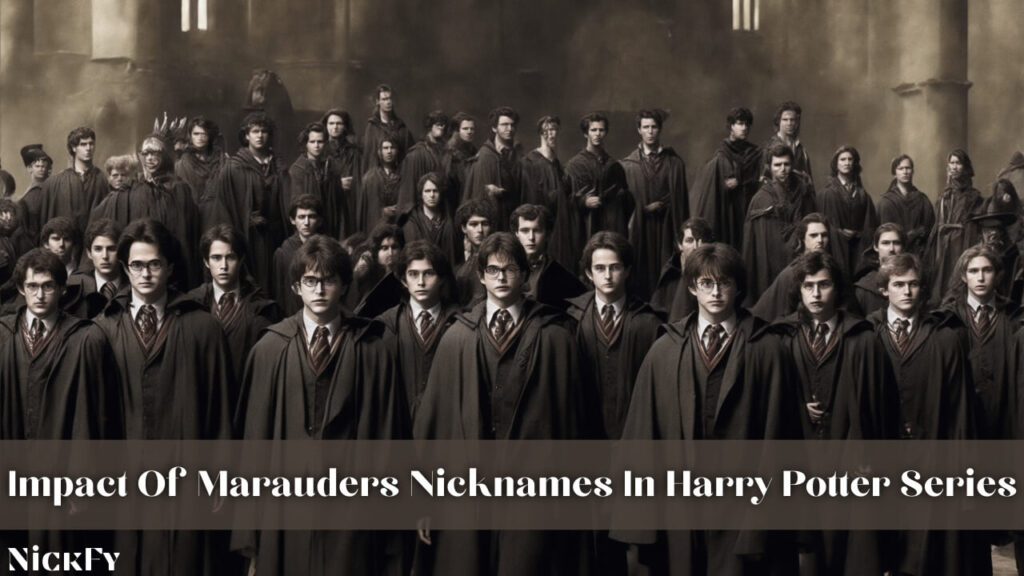 Marauder's nicknames played a significant role in shaping their relationships and storylines.
For instance, when Sirius Black was evading capture in "Harry Potter and the Prisoner of Azkaban," he was often referred to as Padfoot, which helped maintain the mystery surrounding his character.
Moreover, the nicknames acted as a testament to the unbreakable bond between the Marauders, even as their journeys took different directions.
The legacy of the Marauders and their nicknames lives on through countless fans who remain fascinated by their tales and adventures.
FAQs About Marauder's Nicknames
Here I'm answering some of your most asked questions about the marauders and marauders nicknames.
What are Marauders Nicknames?
Marauders Nicknames are from the Marauders, a group of four friends in the Harry Potter series, and often include unique and imaginative combinations of their names, Animagus forms, or personalities.
These nicknames are inspired by James Potter (Prongs), Sirius Black (Padfoot), Remus Lupin (Moony), and Peter Pettigrew (Wormtail).
How do I create a Marauders nickname?
Get inventive with your Marauders nickname by mixing character names, Animagus forms, personality traits, or magical terms. Wordplay, puns, alliterations, or rhymes can make your nickname even more memorable.
Can I use Marauders nicknames for my social media accounts?
You can use Marauders nicknames for your social media accounts, online gaming profiles, or any other platform where you'd like to have a unique and creative username inspired by the Harry Potter series.
Are Marauders nicknames only for Harry Potter fans?
While Marauders nicknames are inspired by the Harry Potter series, they can be used by anyone who appreciates creative and unique usernames.
The nicknames can be a fun way to express your interests or personality, even if you're not a die-hard Harry Potter fan.
Can I create a Marauders nickname for my pet?
Naming your pet with a Marauders nickname can be a delightful way to showcase your creativity, especially if you love Harry Potter. Choose a nickname that suits your pet's appearance, breed, or personality.
Are there any guidelines for creating a Marauders nickname?
There are no hard and fast rules for crafting a Marauders nickname, but it's essential to ensure it's appropriate, respectful, and adheres to the rules of the platform you'll be using it on.
Aim for a unique and memorable nickname by incorporating wordplay, alliterations, or rhymes.
Can I use a Marauders nickname for my business or brand?
While it's possible to incorporate a Marauders nickname into your business or brand, consider your target audience and the image you want to project.
Ensure the nickname aligns with your brand values and is relevant to your industry.
How do I choose the best Marauders nickname for me?
Consider your interests, personality, and the message you want to convey when selecting the best Marauders nickname for you.
You can also ask friends or family members for suggestions or browse online lists for inspiration.
What is the Marauder's Map?
The Marauder's Map is a magical, enchanted map created by the Marauders during their time at Hogwarts.
It shows the entire layout of Hogwarts School, including secret passages, hidden rooms, and the real-time locations of every person within the castle grounds.
Can I use Marauders nicknames in fanfiction or role-playing games?
Marauders nicknames can be used in fanfiction, role-playing games, or any other creative context where you want to incorporate elements from the Harry Potter universe.
Conclusion
So there you have it, my collection of Marauders nicknames inspired by the legendary Marauders from the Harry Potter series.
The Marauders are fascinating characters, each with their unique traits and abilities. Their enduring legacy has given rise to various nicknames, reflecting their diverse personalities and adventures.
Whether you're an avid fan of the series or searching for an enchanting nickname for a friend, pet, or online persona, this extensive collection offers something for everyone.
I hope you find the best Marauders nickname that captures the magic and charm of these beloved characters.
If you enjoyed my collection of Marauders nicknames, don't hesitate to share it with your friends and family on social media. Your support is greatly appreciated.
If you have any Marauders nickname ideas, please feel free to share your ideas in the comments. Your input is always welcome. Have a spellbinding day. Peace.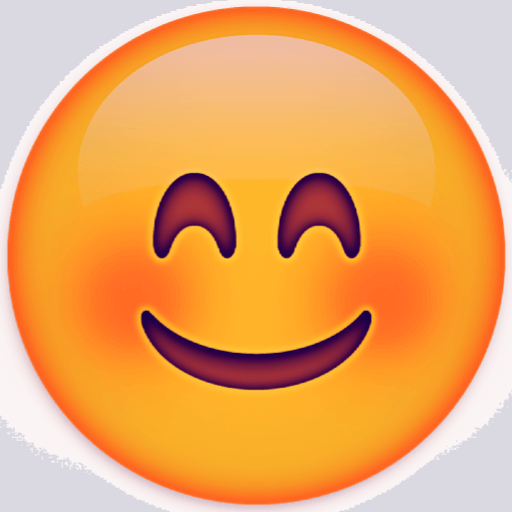 Here On Nickfy, we publish unique, cool, and memorable nicknames and names for girls, for boys, and all kinds of people of all ages. We are the Editorial Team on Nickfy Working Hard to Give you the Nicknames & Names you want to use in your life.