Dragon Nicknames | Looking for nicknames for dragons? Don't worry. In this post, I'm sharing my collection of nicknames for dragons.
Dragons have captured the imagination of people throughout history and across various cultures.
These mythical creatures have been depicted in literature, art, and folklore, leaving a lasting impression on humanity.
Despite their fearsome reputation, dragons have a certain charm and mystique that make them a popular subject of fascination.
Their fiery breath and monstrous size have inspired awe and terror in equal measure, making them a popular symbol in mythology and fantasy.
They're also one of the most versatile, with a wide range of personalities and characteristics that make them suitable for use as nicknames.
In this post, I've shared my collection's fascinating world of dragon nicknames, from funny and cute monikers to those inspired by mythology and medieval history.
Whether you're naming a new pet, creating a character for a story, or simply indulging your love of dragons, you will surely find the best dragon nickname on this list.
Type Of Dragons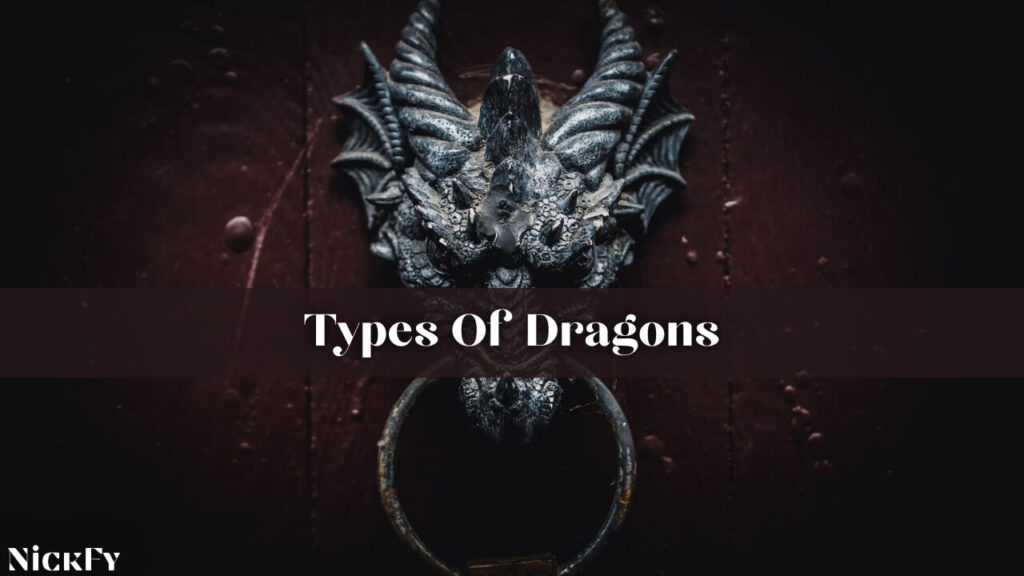 Before diving into nicknames, it's essential to understand the various types of dragons found in different mythologies and stories.
Dragons come in many shapes and sizes, and their forms vary across different mythologies and cultures.
In this section, I'll share some of the most common types of dragons you might encounter in stories and legends.
Western Dragons – These dragons are often depicted as large, four-legged creatures with bat-like wings, sharp claws, and long tails. They're known for their ability to breathe fire and are often associated with treasure hoarding.
Eastern Dragons – Unlike their Western counterparts, Eastern dragons typically have long, serpentine bodies and are considered symbols of power, wisdom, and good fortune. They can control the weather and usually don't possess wings but can fly through the air using magic.
Wyverns – Wyverns are smaller, two-legged dragons with wings and a barbed tail. They're often portrayed as less intelligent than other dragons but can still be fierce adversaries.
Drakes – Drakes are wingless, four-legged dragons that usually inhabit caves and mountains. They're known for their strength and agility.
Amphipteres – These dragons have the body of a snake and wings but lack legs. They're often associated with various elements, such as fire, water, or earth.
Lindworms – Lindworms are serpentine dragons with two legs and no wings, usually depicted as large, powerful creatures.
Wyrms – Wyrms are legless, wingless dragons with elongated, snake-like bodies. They're typically associated with dark magic and are often found guarding ancient tombs or treasures.
Fire Dragon – A fire-breathing dragon with red or orange scales. Suitable nicknames include Blaze, Inferno, or Ember.
Ice Dragon – A dragon with the ability to control ice and snow. Frostbite, Glacial, or Snowflake are some fitting nicknames.
Earth Dragon – A dragon with a strong connection to the earth and nature. Terra, Boulder, or Earthshaker are a few possible nicknames.
Funny Nicknames For Dragons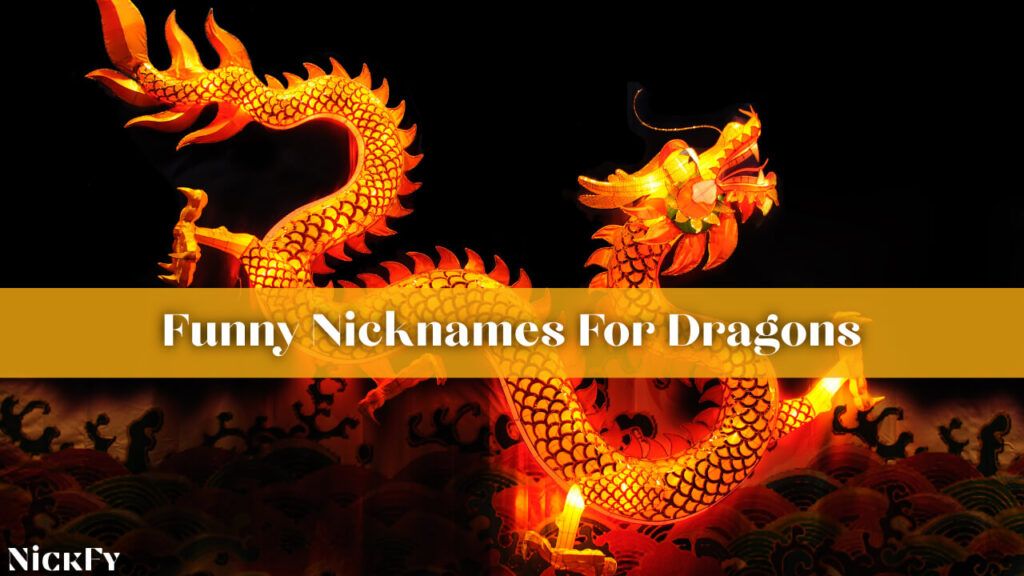 Are you looking for a funny nickname for your dragon? Look no further. Here, I'm sharing my list of the funniest dragon nicknames to make your dragon's name stand out from the crowd.
Dragons don't always have to be serious and fearsome creatures; sometimes, they can be a source of humor and amusement.
They have captivated our imagination for centuries, weaving their way into countless legends and stories.
Adding a touch of humor to your dragon's nickname can make it even more memorable and endearing.
Here are some funny nicknames for dragons that will surely make you smile.
If your friend like fiction, please check my list of fiction nicknames and fantasy nicknames. You can alsp read wizard nicknames for more ideas.
Fiery Mc
Firepants
Scales Malone
Dragon McBraggin'
Puff the Magic Dragger
Sir Hiss-a-Lot
Flamejamin
Sizzlefoot
Wingding
Scaley Waley
Smokebreather
Chompers
Toothless Wonder
Roasty Toasty
Sparklebutt
Sir Burnsalot
Tailswisher
Hot sauce
Cinderegg
Wingzy
Clawsome
Snappy Snout
Scorchy Pants
Blaze McLazy
Singed Whiskers
Flaming Fido
Fire Snacker
Ashen Angel
Toastmaster
Grill Sergeant
Fluffy Ember
Scaley McFly
Sir Smokalot
Flame Dancer
Charbroil
Dragzilla
Ignitus McSizzle
Seargent Sizzle
Blaze of Glory
Fireball Frenzy
Burnie Sanders
Emberella
Fuego Fandango
Hot Wings
Sir Smokes-a-Lot
Roarzilla
Firestarter Fred
Smokey the Bear
Barbecue Buddy
Ash Ketchum
Fiery Fandango
Cool & Cute Dragon Nicknames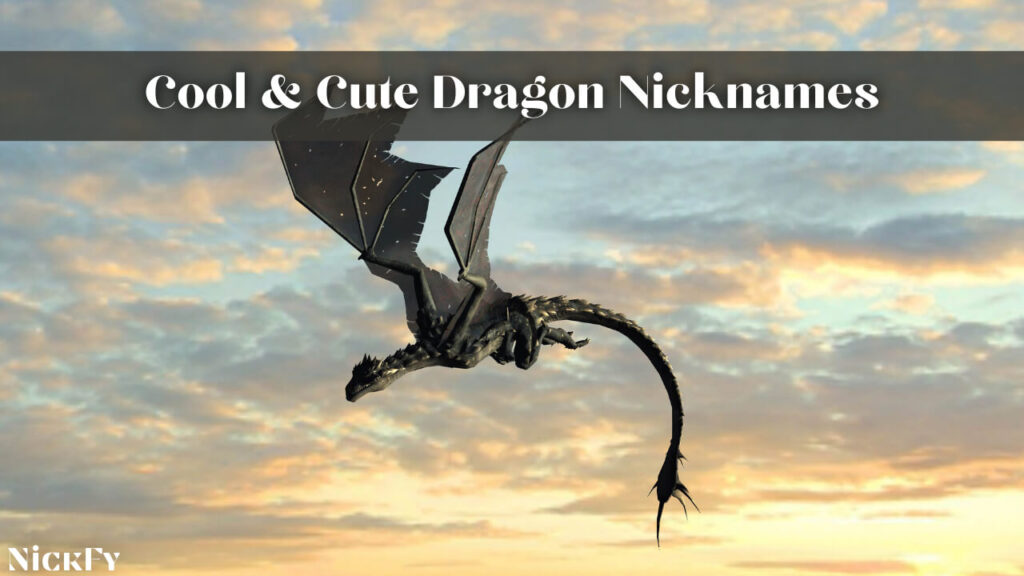 Do you want cool and cute dragon nicknames? You've come to the right place. In this section, I've shared my list of some of the coolest and cutest nicknames for dragons.
Dragons have been around for a long time, and they have many myths and legends surrounding them.
These cool and cute nicknames are important because they are a way to honor the dragons you love.
You have countless options for choosing a dragon nickname that matches its personality, whether you prefer a strong and fierce name or an adorable one.
Here's a list of some of the coolest and cutest dragon nicknames to choose from.
Starshine
Whisp
Moonfire
Skydancer
Sapphirewing
Blaze's heart
Stormchaser
Glimmer
Firefly
Thunderstrike
Sparklewing
Sundancer
Emberglow
Aurora
Lightning wing
Nimbus
Blaze Bloom
Crystalwing
Flare
Solarflare
Comet Tail
Shadowspark
Fireburst
Skyfire
Stellar
Starburst
Meteor
Phoenix
Echo
Thunderclap
Wraith
Breezewhisper
Spiritwing
Scorchtail
Ashfall
Zephyr
Mistwing
Nightshadow
Duskflame
Twilightspark
Stormbringer
Sunbeam
Windrider
Skyhunter
Blaze Dancer
Firestorm
Thunderwing
Dreamweaver
Solstice
Celestial
Tempest
Wildfire
Skyknight
Windwalker
Stardust
Firebrand
Pyroclaw
Glitterwing
Moonshadow
Quasar
Popular & Famous Dragon Nicknames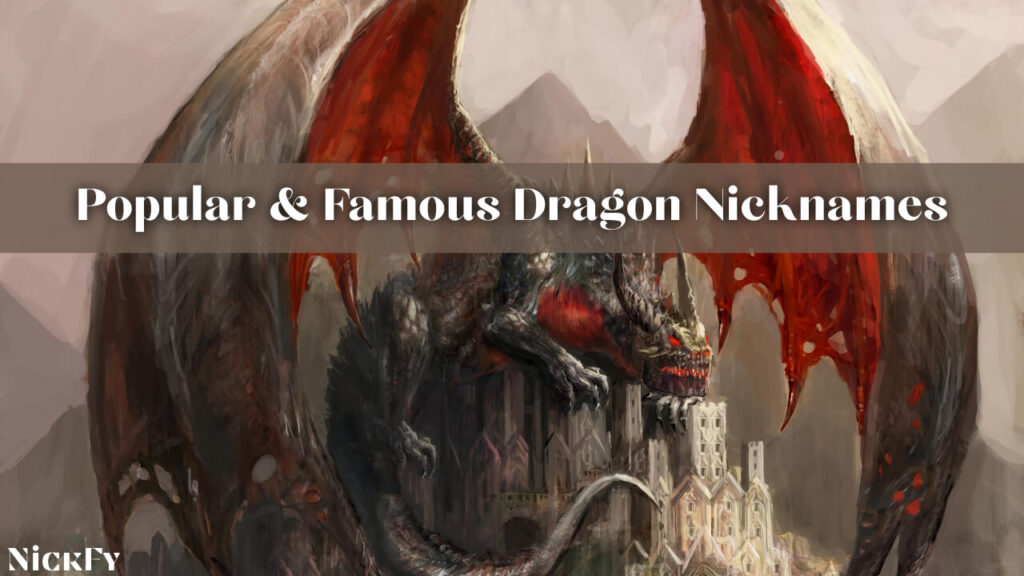 Searching for popular and famous dragon nicknames? Your search is over. Here, I've compiled a list of some of the most popular and famous nicknames for dragons featured in literature and movies.
Over the years, dragons have made numerous appearances in books, movies, and television shows, capturing the hearts and minds of audiences worldwide.
Some dragons have achieved fame in popular culture, and their names can serve as great inspiration for your own dragon's nickname.
If you're looking for a dragon nickname inspired by a favorite character or fantasy world, these famous dragon nicknames will do the trick.
Here are some of the most popular and famous dragon nicknames from various books and movies.
Smaug
Viserion
Rhaegal
Toothless
Spyro
Draco
Norbert
Hungarian Horntail
Chinese Fireball
Saphira
Maleficent
Shenron
Glaurung
Fafnir
Vermithrax
Balerion
Viper
Ghidorah
Stormfly
Cloudjumper
Eustace
Falkor
Morkeleb
Aurene
Seraphina
Iormungand
Pyrovile
Tangrowth
Rayquaza
Charizard
Gyarados
Dragapult
Noivern
Dragonite
Hookfang
Typhoomerang
Razorwhip
Thunderdrum
Boneknapper
Singetail
Eruptodon
Bewilderbeast
Red Death
Grapple Grounder
Timberjack
Sliggoo
Goodra
Drampa
Turtonator
Haxorus
Mythical Dragon Nicknames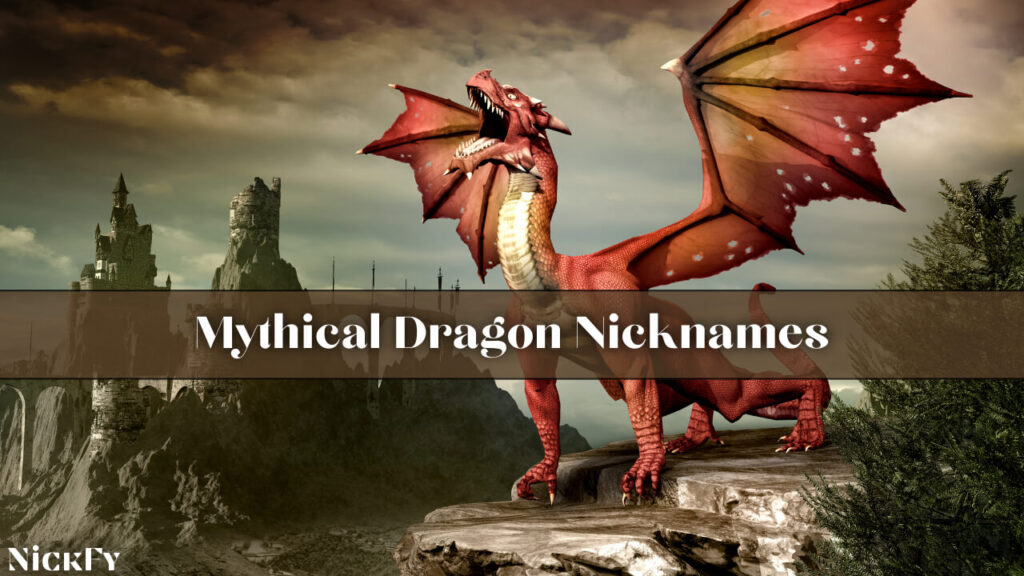 In search of mythical dragon nicknames? You're in luck. In this section, I've shared some of the most interesting and captivating dragon nicknames derived from various mythologies and cultures.
Dragons have played a significant role in myths and legends from various cultures. These mythical dragon nicknames are inspired by the tales and stories that have been passed down through generations.
Giving your dragon a nickname derived from mythology can add depth and historical significance to its character.
If you're interested in mythical dragon nicknames inspired by legends and folklore from around the world, drawing inspiration from mythology can lead to some truly fantastic dragon nicknames.
Here are some fascinating mythical dragon nicknames that will add a touch of ancient lore to your dragon's identity.
Ladon
Jormungandr
Nidhogg
Ouroboros
Basilisk
Leviathan
Chimera
Hydra
Typhon
Tiamat
Bahamut
Quetzalcoatl
Illuyanka
Zmey Gorynych
Vritra
Y Ddraig Goch
Tarasque
Fucanglong
Shenlong
Pixiu
Kiyohime
Ryujin
Yamata-no-Orochi
Lindworm
Drakon
Scylla
Charybdis
Ladon
Gorgon
Naga
Wyvern
Amphisbaena
Knucker
Tarrasque
Lamia
Ouagadou-Bida
Jabberwock
Cipactli
Amphitere
Cockatrice
Medieval Dragon Nicknames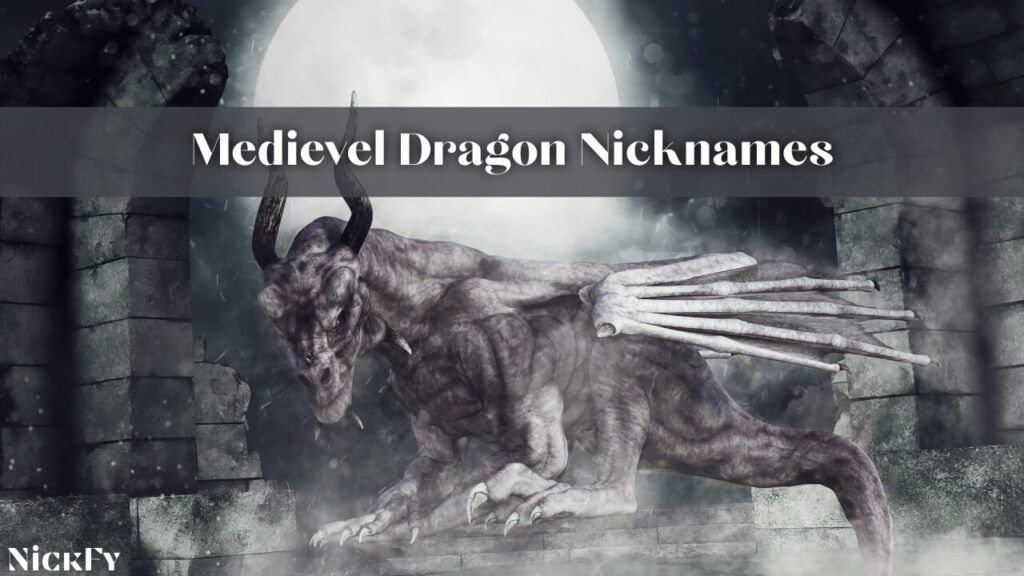 Do you want medieval dragon nicknames? You've come to the right place. In this section, I'm sharing my collection of unique and intriguing dragon nicknames with a medieval twist.
In medieval times, dragons were often depicted as fearsome adversaries, and many stories and legends revolved around knights and heroes who faced these mighty creatures.
Throughout the Middle Ages, dragons represented power and were engraved on heraldic symbols, featured in folklore, and played an important role in many stories.
If you want a nickname that conveys a sense of nobility, and romanticism or pays tribute to famous battles or quests, these medieval dragon nicknames might be perfect for you.
Here are some enchanting medieval dragon nicknames to fulfill your noble fantasies.
Albion
Balaur
Flammifer
Grendel
Mordred
Pendragon
Tintagel
Vortigern
Wyrm
Wyverary
Drakon
Scatha
Fafnir
Ladon
Smaug
Vermithrax
Karkinos
Chimera
Lindworm
Gorgon
Tarasque
Knucker
Balerion
Glaurung
Jabberwock
Cipactli
Amphisbaena
Cockatrice
Wyvern
Basilisk
Hydra
Tiamat
Leviathan
Typhon
Chimera
Ouroboros
Quetzalcoatl
Nidhogg
Jormungandr
Y Ddraig Goch
Norse Dragon Nicknames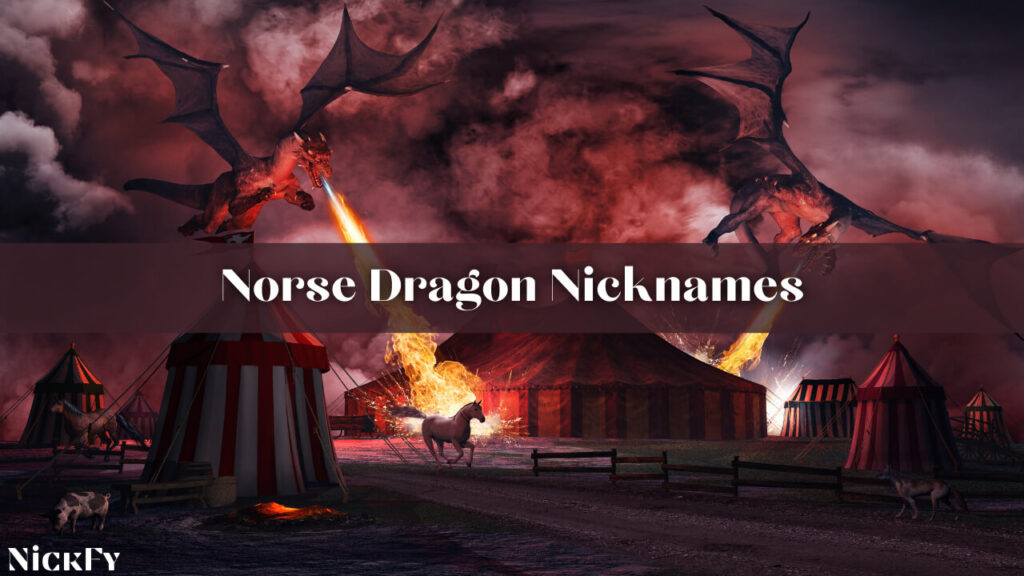 Looking for Norse dragon nicknames? You're in the right place. In this section, I've gathered some of the most powerful and awe-inspiring dragon nicknames inspired by Norse mythology and legends.
Norse mythology is rich with tales of powerful and fearsome dragons that have captivated readers for centuries. It's full of fascinating stories about mythical creatures, gods, and heroes.
Dragons, in particular, are prominent figures in many of these tales, and their names can serve as excellent inspiration for your own dragon's nickname.
Norse dragon nicknames can add a mystical allure to your dragon's identity with their evocative images of ancient battles, breathtaking landscapes, and mighty warriors.
Here are some Norse dragon nicknames inspired by the legends and myths of the ancient Vikings.
Fafnir
Jormungandr
Nidhogg
Wyrm
Jotunn
Hraesvelgr
Hati
Skoll
Fenrir
Garmr
Mimir
Huginn and Muninn
Sleipnir
Hel
Gullinbursti
Audumla
Valkyrie
Draugr
Eikthyrnir
Hrym
Surtr
Norns
Ratatoskr
Vidar
Heimdall
Yggdrasil
Aegir
Ran
Surtur
Managarmr
Male Dragon Nicknames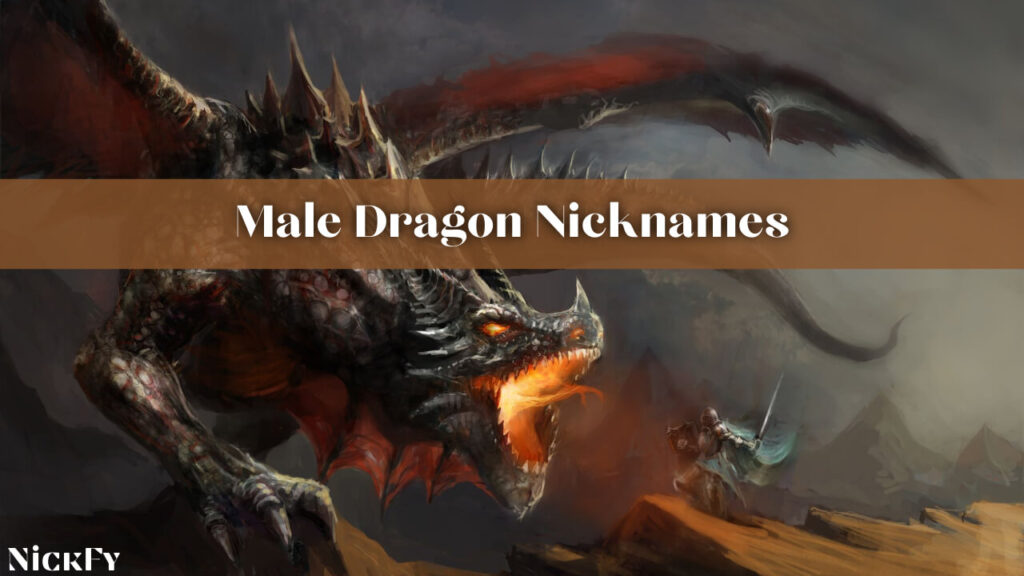 Are you in need of male dragon nicknames? Look no further, In this section, I've put together a list of strong and masculine dragon nicknames best for your male dragon.
Dragons, whether they are male or female, are known for their strength and power.
Male dragons can have distinct personalities and traits, so giving them a nickname that reflects their unique characteristics can make them even more special.
Whether your dragon is a fierce warrior, a loyal guardian, or a wise mentor, these male dragon nicknames will suit him perfectly.
Here are some masculine dragon nicknames to consider for your mighty male dragon.
Blaze
Spike
Drago
Ash
Shadow
Thunder
Soren
Smolder
Drogan
Fang
Nero
Inferno
Ragnar
Axl
Magnus
Ignus
Titan
Vex
Dante
Blazej
Zephyr
Zephyrus
Zarek
Zander
Torvald
Tiberius
Thorne
Thor
Stryker
Storm
Female Dragon Nicknames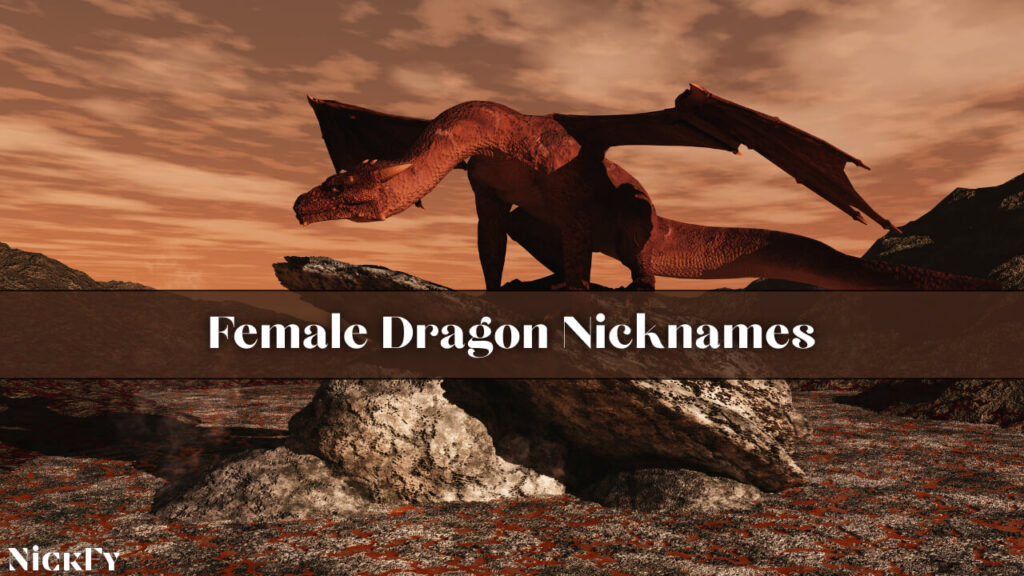 Are you looking for female dragon nicknames? You've come to the right place, Here, I've shared my list of beautiful and enchanting dragon nicknames suitable for your female dragon.
Female dragons, like their male counterparts, are known for their strength and power, but they can also be graceful, mysterious, and captivating.
Giving your female dragon a nickname that reflects her unique personality and characteristics can make her even more unforgettable and beloved.
Female dragons can have elegant and majestic nicknames that reflect their beauty and grace.
Here are some alluring female dragon nicknames to consider for your elegant female dragon.
Ember
Luna
Aurora
Mystique
Celestia
Lyra
Nova
Nyx
Nala
Seraphina
Sapphire
Scarlett
Skye
Stormy
Phoenix
Raine
Raven
Ruby
Sable
Salina
Selene
Siren
Skyler
Solara
Star
Stella
Talon
Tiamat
Vesta
Blazea
Zara
Xandra
Waverly
Zadie
Zaida
Zelda
Zoey
Abigail
Alexandria
Anastasia
Ariel
Bellatrix
Cassidy
Cleo
Delilah
Electra
Elvira
Freya
Gabriella
Gaia
Gwendolyn
Hermione
Isadora
Jade
Jasmine
Juniper
Kaida
FAQs About Dragon Nicknames
Here I'm answering some of your most-asked questions about dragons and nicknames for dragons.
What are some popular dragon nicknames?
Some popular dragon nicknames include Smaug, Drogon, Toothless, Falkor, and Mushu.
Can I nickname my dragon after a character from a book or movie?
Yes, using a character nickname from a book or movie can be a great way to give your dragon a unique and recognizable name.
Should I choose a nickname based on my dragon's appearance or personality?
You can choose a nickname based on either your dragon's appearance or personality, or both. Consider what makes your dragon stand out and choose a nickname that reflects that.
Do dragon nicknames have to be serious?
No, dragon nicknames can be serious or lighthearted, depending on your preference. Some people prefer more serious names, while others like to have fun with their dragon's nickname.
How do I choose a dragon nickname that's easy to remember?
Choose a nickname that's short and easy to pronounce. Avoid complex or difficult-to-pronounce names that might be hard to remember.
Can I change my dragon's nickname later on?
Yes, you can change your dragon's nickname at any time. Just be sure to choose a new nickname your dragon will respond to.
What are some dragon nicknames inspired by mythology?
Some dragon nicknames inspired by mythology include Leviathan, Tiamat, Ladon, and Fafnir.
Is it better to choose a dragon nickname that's unique or common?
It's up to you. Some people prefer to choose a unique nickname that sets their dragon apart, while others prefer more common names that are easier to remember.
How do I know if my dragon likes their nickname?
Pay attention to your dragon's body language and behavior. If they respond positively to their nickname and seem to recognize it, they probably like it.
Can I use a dragon nickname for any type of dragon?
Yes, dragon nicknames can be used for any type of dragon, whether it's a fictional creature or a real-life species. Just ensure the nickname you choose fits your dragon's unique qualities and characteristics.
Conclusion
So there you have it, my collection of nicknames for dragons, inspired by mythical stories and the medieval period.
Dragon nicknames are a fun and creative way to personalize your dragon and make them stand out from the crowd.
Whether you're looking for something humorous, cool, or inspired by mythology, there are endless possibilities for dragon nicknames.
By considering the type of dragon, its characteristics, and its appearance, you can come up with a nickname that perfectly suits your dragon's personality.
So go ahead and choose a nickname that represents your dragon's unique qualities and traits, and enjoy your time with your new dragon companion.
If you like my collection of dragon nicknames, please share this post with your friends and family on social media.
If you have any nickname ideas for dragons, feel free to share your ideas in the comments. Thanks for your love and support. Peace.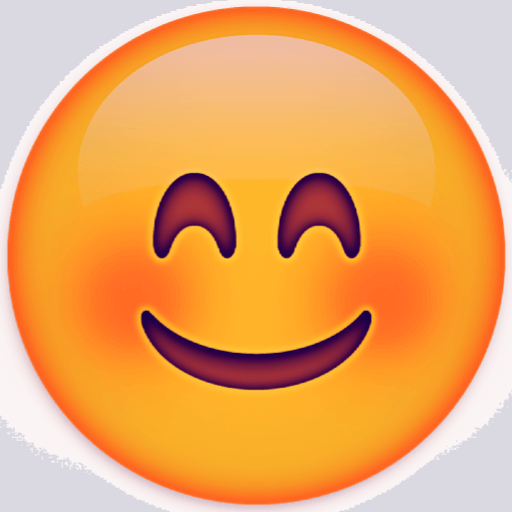 Here On Nickfy, we publish unique, cool, and memorable nicknames and names for girls, for boys, and all kinds of people of all ages. We are the Editorial Team on Nickfy Working Hard to Give you the Nicknames & Names you want to use in your life.