Conference Room Nicknames | Looking for nicknames for conference rooms? No worries! In this post, I'm sharing my collection of conference room nicknames that'll make your workspace shine.
Conference rooms, where ideas blossom and creativity soars! But having names like "Conference Room A" or "Conference Room B" can be a serious buzzkill.
Why stick to bland and boring when you can have names that turn these rooms into exciting thought factories?
How about nicknames that reflect those endless brainstorming sessions or pay tribute to pop culture or even add a dose of humor?
Your office deserves a bit of charm, and conference room names can play a role in setting just the right tone.
In this post, I've shared my collection of conference room nicknames that cater to various moods and preferences.
Conference Room Nicknames
Nicknames For Conference Room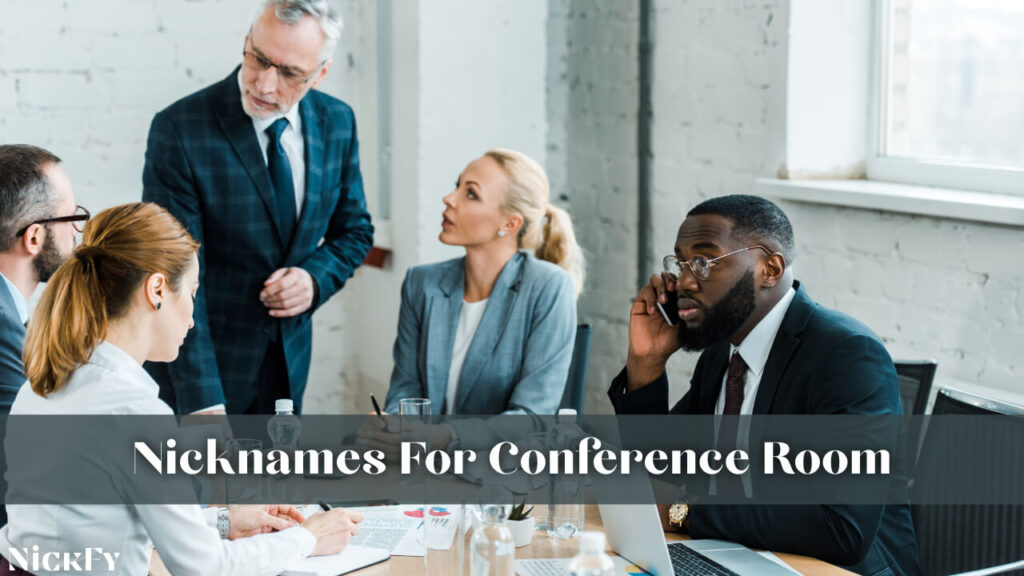 Are you searching for creative nicknames for conference rooms? You've found the right spot. Here, I've shared my list of nicknames for conference rooms.
Conference rooms are where innovation takes shape, and what better way to emphasize this than to have creative nicknames for these rooms?
After all, the place where the company's brainpower converges certainly deserves more than a generic "Room B" type of designation.
Below is my list of nicknames for conference rooms that break the stereotypical room naming convention.
The Think Tank
Collab Corner
Brainstorm Bridge
The Decision Den
The Innovation Hub
The Success Chamber
Hive Mind Hangout
Future Forge
Problem Solver's Paradise
Catalyst Cache
Visionary Vault
Executive Suite
Mastermind Mansion
The Synergy Space
Strategy Station
The Growth Grove
Idea Incubator
The Progress Platform
The Elevator
Wisdom Workshop
The Creativity Catcher
Focus Factory
The Roundtable Room
The Networking Nook
Summit Square
Aspire Arena
Goal-Getter's Gallery
The Dynamic Dome
Insight Island
The Collaboration Castle
The Effective Enterprise
The Beacon Boardroom
The Powwow Place
Progress Park
Launch Lab
The Connection Cabin
The Negotiation Nucleus
The Harmony Hall
Goal Galaxy
Mission Control
The Energy Exchange
Unity Univers
Assemble Area
The Success Studio
The Key-Holder's Quarter
Ambition Alley
The Genius Junction
Dialogue Deck
The Resolution Room
The Transformation Tower
Funny Conference Room Nicknames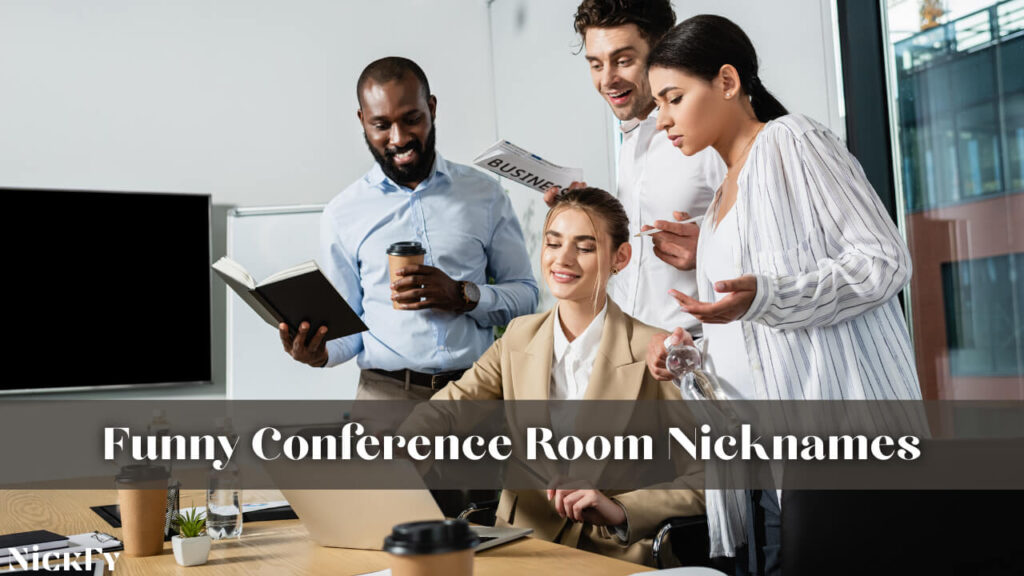 Do you want some humor mixed within the names of your conference rooms? Calm down, In this section, my list of hilarious conference room nicknames that promise fun in the professional world.
Laughter, they say, is the best stress-buster, and when it finds its place right in the nickname of a conference room, the work environment is bound to be more relaxed and friendly.
Infusing humor into the work environment has been scientifically proven to boost productivity and creativity. Humor can put your team at ease and build friendships.
Here is my list of funny conference room nicknames that will surely tickle your funny bone while thinking about those boardroom meetings.
The Cone of Silence
Board Silly
The Napping Nest
Meeting Mayhem
Witty Whiteboard
Bored to Boardroom
PowerPoint Parlor
Coffee Crisis Corner
The Hammock Hangout
The Spreadsheet Spa
The Deadline Dive
Chatterbox Chamber
Gab Gab Grotto
Jargon Jungle
Agenda Arcade
Freebie Friday Lounge
The Twiddling Thumbs Territory
Charted Waters
Hourglass Huddle
The Solitaire Sanctuary
The Office Oscars
Frustration Fountain
Time Out Tower
The No-Doze Domain
Status Quo Corner
The Conference Confessional
Babble Balcony
Attack of the Drones
Pointless Pie Charts Palace
The Chat Cave
Office Space Odyssey
Kibitzing Kingdom
Restless Retreat
The Judgment-Free Zone
The Shhh Spot
Buffalo Wing Boulevard
Multitasker's Mansion
Coffee Recharge Room
The Daydreamers' Den
Office Space-arium
Spreadsheet Spectacle
Post-It Panic
Yawn Yard
The Blah-Blah Bay
The Snooze Button Boardroom
Wi-Free Wonderland
Breakout Bermuda Triangle
Office Oyster
The Excel Room
Procrastinator's Party Pad
Cool Conference Room Nicknames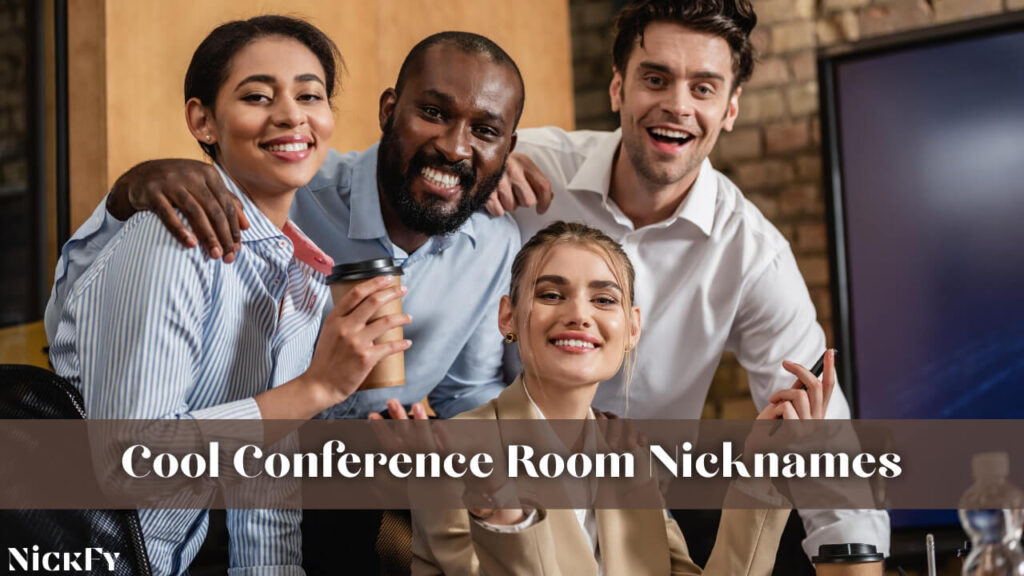 In search of cool conference room nicknames? Your search is over, Here, I'm sharing my list of the coolest conference room nicknames.
Sometimes, the office environment demands a touch of coolness, whether it's about impressing a client or invigorating your team.
A cool workspace cultivates a vibrant culture, and the nicknames of the spaces play a big part in setting this vibe! Let's turn that boring "Conference Room 2" tag into a zesty one.
Below is my list of cool conference room nicknames, that I've brainstormed for your conference rooms.
Mindstream Matrix
Skull and Crossbones Laboratory
Quantum Leap Lounge
Thunderdome
The Big Bang Bungalow
Force-Field Forum
Infinity Incubator
Bass Drop Boardroom
The Zen Zone
Skyward Studio
Enigma Engine
Multiverse Mansion
The Chameleon Chamber
Starfleet Command
The Batcave
Oasis Office
Alpha Nexus
Time Traveler's Tavern
Intergalactic Inn
The WhirlWind Workshop
Gamechanger Garage
Stellar Summit
Lightning Luau
Dreamcatcher Domain
The Cyber Castle
The Holographic Haven
Atlantis Assembly
The Riddle Resource
The War Room
The Soundwave Sanctuary
The Halls of Valhalla
The Elysium Embassy
The Chronos Chamber
Action Adventure Arena
The Mind Palace
Illusion Island
Spy Central
Rebel Rebel Room
The Eureka Elevator
The Updraft Utopia
Octagon Office
Rad Recharge Room
The Vortex Venue
Energy Escapade
Phantom Passage
Rift Runway
Velocity Vault
Supernova Sphere
The Titan's Table
Quantum Quasar
FAQs About Conference Room Nicknames
In this section, I'm answering some of your most-asked questions about nicknames for conference rooms.
Why should we bother with conference room nicknames?
Why not? Conference room nicknames add a bit of spice to your office environment. They're light-hearted, fun, and can actually make that Monday morning meeting less deflating.
How can we pick an appropriate conference room nickname?
It's like picking a nickname for your pet. You consider your company's culture, values, and your team's interests, and then boom! You've got a fitting nickname.
Can we use pop culture references for these nicknames?
Sure you can! Pop culture references break the monotony, and they can be super fun. But remember, it should be something everyone in the team understands.
You don't want to alienate Bill from accounting who still uses a flip phone.
What about inclusivity and diversity in conference room nicknames?
Totally important! Simply involve your team in the process. Let everyone pitch in their ideas, the more minds at work, the merrier. This way, you can ensure the nicknames resonate with everyone.
Can we change conference room nicknames often?
Sure, why not? Changing nicknames could bring a fresh vibe every now and then. Just don't do it too often, or you'll confuse your team.
Can having creative conference room nicknames have any tangible benefits?
Definitely! Beyond being fun, these nicknames can aid in fostering a creative and inclusive work culture, which is a win in any book!
Conclusion
So, there you have it, my collection of conference room nicknames to make your workspace more amazing. I'm hoping this list leaves you brimming with ideas to jazz up your workspace.
Whether it's a tech startup or a corporate boardroom, an inspiring nickname for a conference room can elevate the work atmosphere.
The best conference room nickname isn't about being funny or cool, it's about reflecting the culture and vibe of your office.
If you like my collection, please share it with your friends, family, and co-workers on social media.
If you have any ideas for conference room nicknames, feel free to share your thoughts in the comments. Thank you for your love and have a productive day. Peace.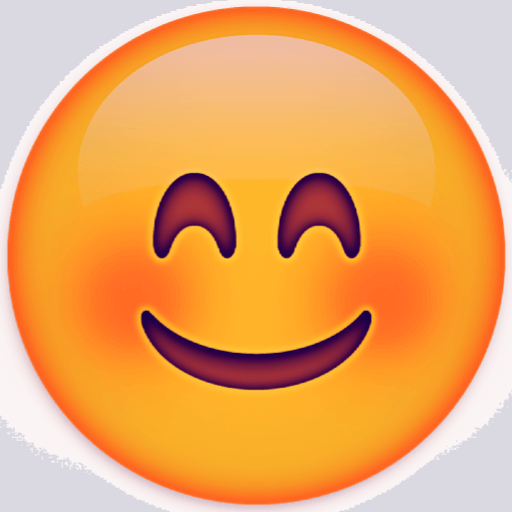 Here On Nickfy, we publish unique, cool, and memorable nicknames and names for girls, for boys, and all kinds of people of all ages. We are the Editorial Team on Nickfy Working Hard to Give you the Nicknames & Names you want to use in your life.